Office Building, Shopping Complex, Daycare facilities, Institutional Facilities
AirTran Office and Maintenance Hangar, Atlanta GA
Georgia Power Call Center, Henry County, GA
Jewish Cemetery, Dunwoody, GA
Lithonia Plaza, GA
Minter Office, Stone Mountain GA
Orchard Hill Business Park,
Windward Office Park, Alpharetta GA
AIR TRAN

Location: Atlanta, GA
Landscape architecture services were provided to the architectural team for this new facility at the Atlanta International Airport. The hardscape design included an outdoor extension of the staff dining facilities, and the building entrance.
The planting design was carefully planned to complement the dynamic architectural style of the public side of this building. Additional coordination included attention to security and maintenance issues.
Jewish Cemetery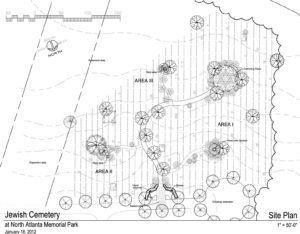 Location: Dunwoody, GA
The design incorporates custom hardscape materials, functional gathering points, a geniza, and uses the rolling terrain to provide definable areas for the three major movements. Low maintenance ornamental plantings provide interest year round and further define spaces.
The plan for this section of the park is to develop improvements over time, and to provide educational interpretive elements for the local Jewish schools to honor and observe traditions.